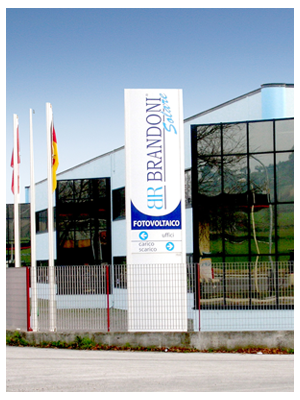 Brandoni is a completely Italian company.
In 2003 the Group foresees the great potential of the renewable energy sector and in 2007 established Brandoni Solare Spa: a young and yet solid project aiming not only to Europe, but also South America, North Africa and East Asia.
In the years the company has been investing a lot in R&D, testing innovative technologies with the purpose of improving not only the production process, but also people's quality of life, contributing to the development of a new sustainable economy.

Once created, the product is carefully tested, its quality is checked and finally placed on the market.
The production line, one of the very few in the whole Europe concerning automation level, size and quality, is capable of producing 55MW/year of reliable and certified products.


Download the Company Profile (EN) | Download the Integrated Policy | Download the Environmental Statement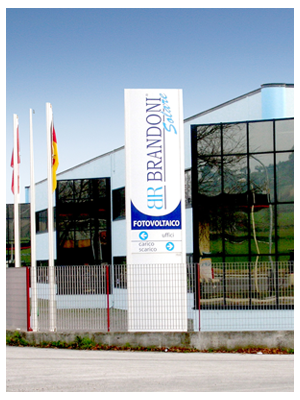 Brandoni Srl was founded in 1989 producing furniture radiators. Since then it has been growing all over the world: Spain, France, U.K., Germany, U.S.A., Russia, Turkey, EAU are just few examples.

Investments in differentiated sectors, among them is photovoltaic since 2003, Brandoni Engineering is the R&D specialized centre devoted to daily research in the field of renewable energies.

Brandoni Espana and Brandoni Argentina are just two of the foreign commercial agencies of Brandoni Group. Moneta Immobiliare, M&M and B&B are estate agents in Sardinia. C.B. company is the ESCO, Energy Service Company, of the Group.

A company looking toward the future.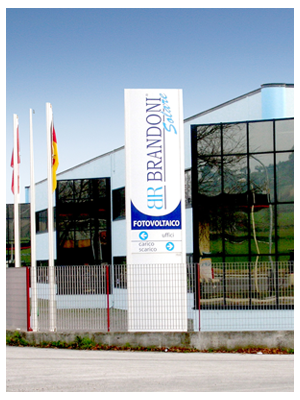 Protecting the environment is not enough.
We need to renew our life style with a new idea of consumption and energy saving. Simple actions such as switching off the lights when not needed, choosing the best time to use your appliances, and keeping up to date about renewable sources. Every single person can help.

To this end, is mandatory to guarantee a good quality, certified, and durable module. The energy savings, although useful, are nothing compared to the awareness of contributing for a healthier and cleaner environment.

The next step is promoting the concept of sustainability from the production line to our working environment and to our partners. Instilling to others the energy we have inside.

Everyone should be focusing on a common objective: ensuring a sustainable future to our Home.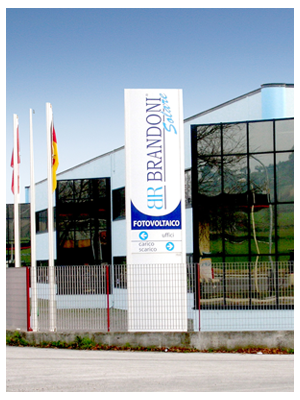 Brandoni Solare production line produces high quality modules, with a constant over time producibility. This is an essential characteristic for a good PV plant.
Every single production process is automated, employees are focused on production quality tests. The integrity of the final product is ensured by the fact that the cells are handled just by meticulous robots, never by people.
Tests and quality controls are distributed among the whole process in order to identify and solve any problem in very short time.
At the end of the production line an A class flash tester and a Hypot tester test the electrical insulation of the module.